Discover more from One Mic History
Telling stories of Black History as American History
Happy Birthday Rosa Parks
Rosa Louise McCauley was born in February 4, 1913 in Tuskegee, Alabama
Rosa Parks was a civil rights activist and recognized as the "mother of the modern day civil rights movement". Her refusal to surrender her seat to a white passenger on a Montgomery bus, December 1955, triggered a wave of protests that reverberated throughout the United States and redirected the course of Black history.
December 1, 1955, After working all day, she boarded the Montgomery City Bus, around 6 p.m. Parks paid her fare and sat in the first empty seat in the row of seats designated for the "colored" section. This was toward the middle of the bus, about ten seats behind the area reserved for White passengers. As the bus traveled along its regular route, all of the White-only seats began to filled up. As the bus reached the third stop, several more passengers boarded. And the Drive James F. Blake noted that two or three White passengers had to stand, because the front of the bus filled to capacity. Blake then moved the "colored" section sign behind where Parks was seating and demanded that her and three other Black people give up their seats so that the White passengers could sit. Blake said, "Y'all better make it light on yourselves and let me have those seats." and three of the passengers complied but Parks would get up and slide closer toward the window seat; Blake asked, "Why don't you stand up?" and she responded, "I don't think I should have to stand up." So Blake called the police.
Thanks for reading One Mic History ! Subscribe for free to receive new posts and support my work.
Parks was arrested, and charged with a violation of Chapter 6, Section 11, segregation law of the Montgomery City code
Parks' story is often simplified to suggest that she simply refused to give up her bus seat because she was old and tired, but her autobiography makes clear that she was protesting unfair treatment. Park said "I was not tired physically, or no more tired than I usually was at the end of a working day. I was not old, although some people have an image of me as being old then. I was 42. the, the only tired I was, was tired of giving in."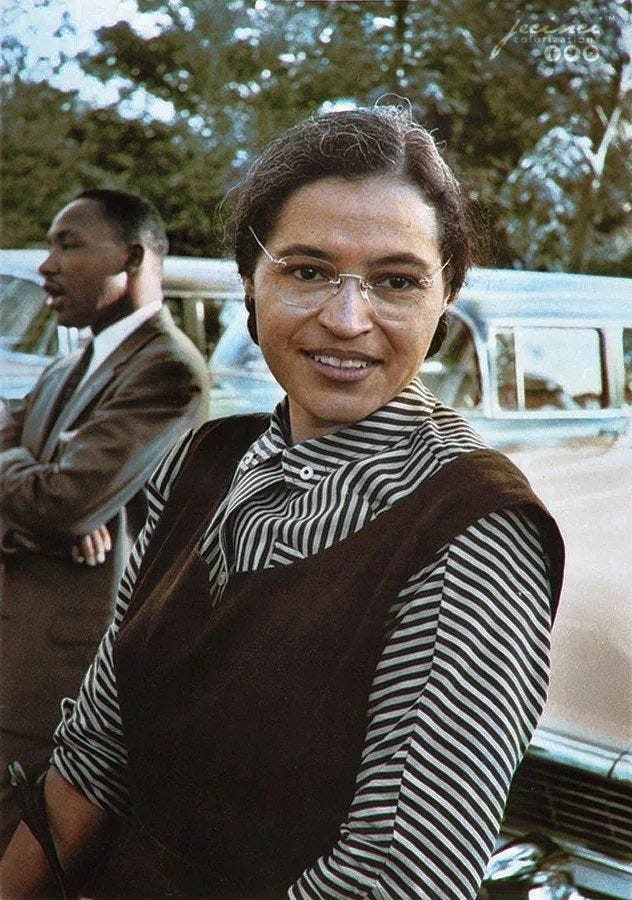 Thanks for reading One Mic History ! Subscribe for free to receive new posts and support my work.